Today's Occurence
The name Callenius und the connected wrting variances occur mainly in Europe, north- and Southamerica. Surely, the families in Ameria have their roots in Europe. Interesting, the name is much more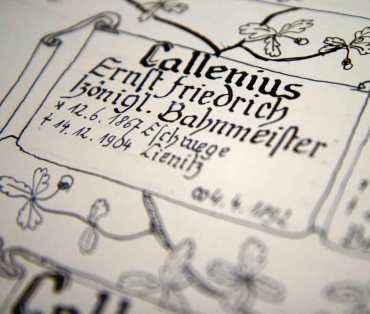 common in Finnland than in Germany.

The surename is (for the genealogy) luckily very rare. Telephone connections (as of 2017):
Germany: 14 connections
USA: 56 connections
Argentina: 5 connections
Finnland: Most common writing variants: Kallenius, Kalenius or Källenius. These families I have not researched upt to now because of language barriers. It would be glad, if you have further information.

In social networks much more people can be detected. I have locallized around 120 different persons, named Callenius. The numbers of idividual persons are growing according to the distribution of the social networks.


Family roots:

Germany: I have detected up to now two different family roots. One from Eschwege (Hesse, Germany) and one from Dorum, county Cuxhaven (lower
Saxony). If they are connected, is not clear yet. Please find more information here.

USA: Some of the families in USA are connected to the Eschwege root, the other families to the Dorum root.

Argentina: It seem, that the most of the families in Argentina have their roots in Dorum.

You will find at chapter Callenius Worldwide more detailed information.